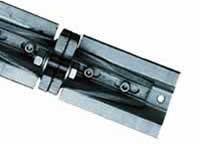 C Slip Safe Post Breakaway System
The durable, safe and reusable Slip-Safe breakaway base system is ideally suited for high-impact areas such as intersections and bull-noses. It is designed to be installed - and reinstalled - quickly and cost effectively. It can handle sign panels up to 42 sq. ft. using three 4 lb/ft RIB-BAK posts within a 7-foot span.
Call us for pricing 800-329-5366
We offer a variety of shipping options, ranging from USP Ground to Next Day Air. The cost of shipping is calculated during the checkout process prior to final checkout and is based on type of shipping chosen, shipping location and weight and dimensions of product(s).
---
More from this Category