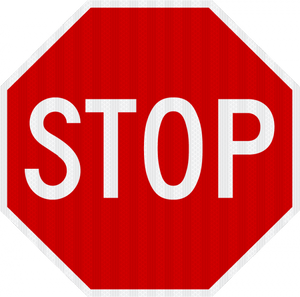 Choosing Metal Stop Signs For Durability And Visibility
Stop signs are essential to the safe ebb and flow of traffic. That's why sourcing a durable stop for all seasons is so important when tasked with creating signage for intersections and stopping points. The bare minimum for a quality stop sign is that it meets the specifications established in the Uniform Traffic Control Devices (MUTCD).
What Materials Should You Use For A Stop Sign?
In addition to meeting all of the requirements established by the Manual on Uniform Traffic Control Devices (MUTCD), a reliable stop sign should be manufactured using D.O.T. Alodined Aluminum with 3M Scotchlite™ Reflective Sheeting. The benefit of going with a heavy-duty, all-weather option like this is that the sign's reflective properties will not fade or chalk.
Unfortunately, many inferior signs made of materials like baked enamel and vinyl will deteriorate rather quickly. Signs made from high-grade aluminum are also more resistant to vandalism.
How Do You Ensure That a Stop Sign Can Be Seen At Night?
First, daytime visibility can be just as important to manage as nighttime visibility. Shadows and strong sunlight can obscure visibility during the morning or afternoon. Thus, it becomes important to choose a sign featuring vivid daytime colors displayed for increased daytime visibility. In addition, choosing aluminum signage that is reflective will ensure that a sign remains visible at night.
What Size Should A Stop Sign Be?
Stop signs come in a variety of sizes. The popular standard options are 18 x 18 (inches), 24 x 24 (inches) and 30 x 30 (inches). While signs that will be applied to signposts should be larger, signs that will be affixed to gates can be smaller.
Get The Best Stop Signs For Streets And Private Campuses From Municipal Supply & Sign
Municipal Supply & Sign Company offers the best selection of signs meeting all D.O.T. requirements. Each sign is designed to provide up to a decade of impeccable performance in all weather conditions.
Browse our selection of customizable stop signs available in high-intensity prismatic and diamond grade (DG3) today!
We offer a variety of shipping options, ranging from USP Ground to Next Day Air. The cost of shipping is calculated during the checkout process prior to final checkout and is based on type of shipping chosen, shipping location and weight and dimensions of product(s).
---
More from this Category