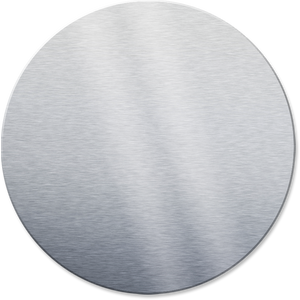 Circular Aluminum Sign Blanks
Blank Circular Aluminum Signs
Perfect for displaying your custom instructions or symbols, blank circular aluminum signs offer brilliance and durability for a variety of environments. They are considered the best options for long-term outdoor signage because aluminum is resistant to rust. Aluminum's strength makes it a great investment.
How Are Blank Circular Aluminum Signs Used?
Aluminum is a great option for outdoor signage. However, it's also suitable for indoor use. Aluminum signs are ideal for directional instructions, wayfinding details and traffic instructions. They can also be used as nameplates on the exteriors of buildings.
Do Aluminum Signs Rust?
No! Aluminum is resistant to rust. Aluminum signs are known for durability and longevity. This is why aluminum is one of the best options for investing in a sign that will save money.
Are Aluminum Signs Reflective?
Yes, aluminum is a material with a naturally reflective nature. This is why aluminum signs are so ideal for outdoor use. They are visible during both daytime and nighttime hours without the need for extra lighting.
Can Round Aluminum Signs Be Customized?
Yes, blank round aluminum signs can be customized in full color with a variety of letters, numbers, symbols and graphics.
Are Aluminum Signs Safe From Vandalism?
The high-tensile nature of aluminum makes it highly resistant to tampering and destruction when compared to other materials. Aluminum also offers extra strength against high winds and inclement weather.
Mount Metal Signs From Municipal Sign & Supply
Do you need a sign supplier that can adjust to mounting holes? Municipal Sign & Supply can provide them for any industry, from real estate to warehouses.
To find out more, please reach out to us today. Municipal Sign & Supply is ready to answer all of your questions about which aluminum sign blanks to use.
We offer a variety of shipping options, ranging from USP Ground to Next Day Air. The cost of shipping is calculated during the checkout process prior to final checkout and is based on type of shipping chosen, shipping location and weight and dimensions of product(s).
---
More from this Category