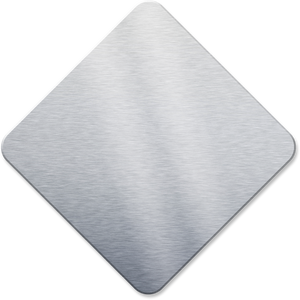 Diamond-Shaped Aluminum Sign Blanks
Diamond-Shaped Aluminum Sign Blanks
Take a look at any aluminum signs and you'll often find that they're in several different shapes in order to meet the needs of each specific use case. Depending on the exact type of signs that you're hoping to post, you'll want to take a look at diamond-shaped aluminum sign blanks. We carry Diamond-Shaped Aluminum Sign Blanks in 18×18, 24×24, 30×30, 36×36 and 48×48 with .080 gauge aluminum in stock at all times and can make varying sizes/thickness on a special request call basis.
Consider the size of not only any extant mounting hardware but also the sign graphics itself. You might need to get a slightly larger sign depending on whether or not the people you expect to see them will be in a motor vehicle or not. As you look over the collection from Municipal Signs, you'll want to keep this simple fact in mind.
Matching Sign Blanks To Uses
Diamond-shaped signs are quite flexible and there are many traditional traffic or instructional signals that are offered in this particular shape. As a result, these blanks are designed to be every bit as flexible. To that end, they're offered in 18″x18″, 24″x24″ and 30″x30″ sizes.
Those who need something capable of standing up to quite a bit of abuse might want to invest in extruded materials or, alternatively, consider flat .080 gauge sign metal. These pieces, along with matching circular sign blanks, should prove to be up to the job in a wide assortment of situations.
Design Your Own Signage With Municipal Sign And Supply
Municipal Supply & Supply is ready to pair you with the signs that you need. Naturally, our pre-printed signs are protected against excessive amounts of sunlight as well, so you'll want to keep this in mind as you shop.
Anybody who needs to design their own specific types of signs and wants to make sure that everything is geared toward their own circumstances can always invest in aluminum sign blanks. For more information about dimensions and potential materials, make sure to contact us online and our team will bring you up to date.
We offer a variety of shipping options, ranging from USP Ground to Next Day Air. The cost of shipping is calculated during the checkout process prior to final checkout and is based on type of shipping chosen, shipping location and weight and dimensions of product(s).
---
More from this Category