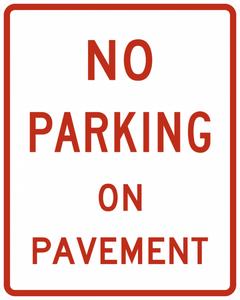 R8-1-No Parking on Pavement Sign
High-Quality No Parking On Pavement Sign
Our No Parking on Pavement Sign is available in two different sheeting types. These signs meet all requirements of the Uniform Traffic Control Devices (MUTCD) specifications.
Prismatic High-Intensity Sheeting
3M™ High-Intensity Prismatic Reflective Sheeting Series 3930 is pressure sensitive and meets ASTM D4956 Type III and Type IV requirements. It is made for durability and is perfect for traffic control signs and construction zone signs. This sheeting is resistant to scratches, gouges from flying rocks and debris, and weather. The sheeting surface is made to provide clear visibility during the daytime, and you can purchase an improved optical package for nighttime visibility.
Diamond Grade Sheeting
3M Diamond Grade Reflective Sheeting series 4000 is a durable product that offers improved visibility using advanced retroreflective optics. It stands out, even at a distance, and is easy to read. This material is appropriate for short, medium, and long-distance signage needs. It is also perfect for signage locations that might be less noticeable, like overhead or on the left shoulder of the parking area or road.
These sheeting types are mounted on D.O.T. Alodined Aluminum. The sheeting surfaces are made by 3M, which has a long-standing reputation for durable products that will not fade over time.
See What Reflective Sheeting Offers At Municipal Supply & Sign
Municipal Sign and Supply is a trusted maker of signage for many needs and lighting conditions. We know the ideal sheeting applications to handle low visibility.
These options allow you to create a No Parking on Pavement sign that is clear, legible and will last a long time. Contact Municipal Sign And Supply if you have questions about this or any other product in our catalog.
We offer a variety of shipping options, ranging from USP Ground to Next Day Air. The cost of shipping is calculated during the checkout process prior to final checkout and is based on type of shipping chosen, shipping location and weight and dimensions of product(s).
---
More from this Category